The quality and the skills of the real estate photographer you hire to sell a property can attract dozens of buyers or turn people away. It can rocket your house into viral fame or cause interested parties to pass your listing by. 
Many Realtors keep a real estate photographer expert on staff to handle client listings or work in their field. If you are listing your home as For Sale By Owner (FSBO), you won't have this real estate photography resource to tap into. You will need to hire someone yourself to take the photos if you want them to stand out and attract buyers. 
Follow these tips to hire a real estate photographer who can help you market your home.
Interview Multiple Real Estate Photographers
It's worth the time and effort to interview multiple real estate photographers before you decide on one to hire. This is particularly important if you aren't familiar with the industry, the rates, or the scope of work involved. 
Create a set of questions for each real estate photographer. Ask about their experience, their rates, and their contracts. Some might be able to provide a sample contract for their work. Each interview can give you more insight into what working with that professional is like and how they would market your home. You can also get an idea of industry price standards so you don't overpay. 
Even if a close friend is a real estate photographer and volunteers to shoot your house, take time to interview outside experts. Paying more for a professional who can view your home objectively may be worth it.
Request Their Real Estate Photography Portfolios
When looking for a real estate photography expert, ask to see the portfolio of houses and condos they have shot. There are multiple reasons to do this. First, you want to know if they specialize in real estate photography and have various properties in their portfolio. This sets them apart from an event or wedding photographer agreeing to shoot real estate. 
Reviewing their real estate photography portfolio will also help you understand their branding. While the photographer will try to market your home in its best light, you are still subject to their personal preferences for what looks good. You don't want to hire someone who overexposes images unless you like that style. 
Set Expectations for Turnaround Time
Taking pictures is only the first part of real estate photography. The photographer must also edit and touch up the images to give them the quality you expect. This takes longer for some people than for others. Getting your images back may take several days or weeks if you hire a real estate photographer with a backlog of clients to edit for. This is unacceptable when you want to list your home in a few days. 
Ensure you and your photographer agree on a reasonable window of time to receive the images and include this timeframe in the contract. You should receive most of the images within a few days of shooting.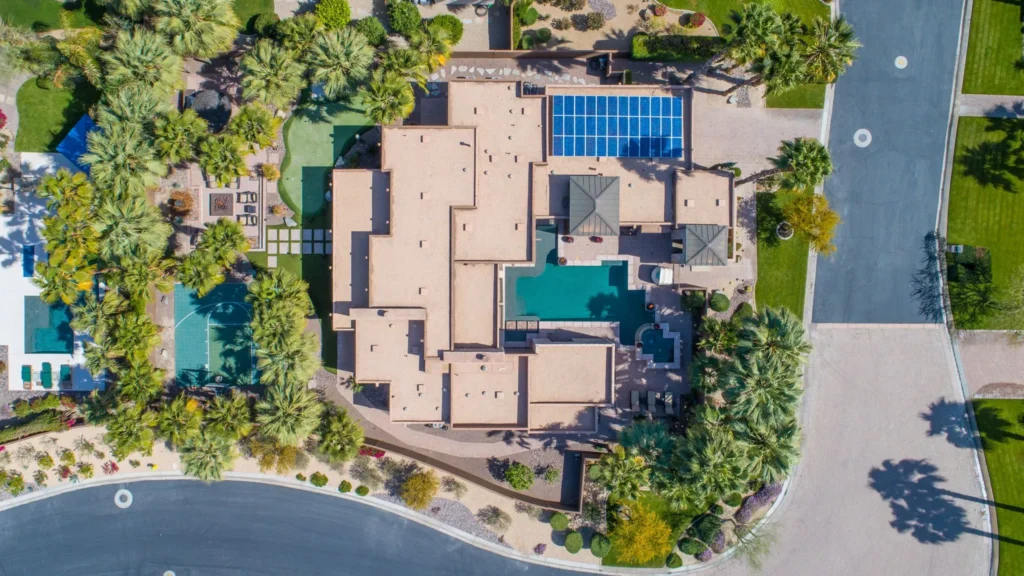 Ask About Drone and Video Experience 
Visuals are essential tools for selling homes. According to the National Association of Realtors, eighty-three percent of buyers' agents said having photographs for a listing is more important because of the COVID-19 pandemic. However, images are only the beginning. Seventy-four percent of agents believe video is also essential, and 73 percent emphasized the value of 3D Virtual Tours. 
You can list your home with just photographs; however, if you want to attract more buyers, consider going the extra mile. For example, ask your real estate photography expert if they have experience with videos, 3D tours, and even aerial drones. These added assets can encourage buyers to check out your property. Agents Compete, and You Win.
Learn About Their Equipment
You can learn much about real estate photography experts through their equipment. If your real estate photographer shows up with one camera and only uses natural light, you might not get the desired results. Even the most open spaces can benefit from extra flashbulbs and other lighting equipment. Plus, different rooms have different lighting needs. While your sunroom might be fine when shot naturally, your windowless bathroom could use some help. 
During the interview process, ask about the equipment requirements of your potential real estate photographer.
Find the Best Time to Shoot Your House
Lighting is a crucial part of real estate photography, so you must be strategic about the time of day you photograph your house. Ask your photographer for time recommendations and look for examples of photoshoots at different times of the day. 
For example, shooting a house at noon on a clear day can make the space look bright and open – and even more significant with enough natural light. However, some photographers will arrive at "golden hour" when the sun is setting. These photos can put your house in a warm glow with contrasting bright lights against incredible skies. 
Also, set a backup shoot date if it rains when you originally scheduled the appointment.
Determine Whether This is Their Full-Time Job
While there is nothing wrong with hiring a photographer who shoots real estate as a side hustle, you take a risk by choosing these vendors. Your images might take longer to go through the editing process if the person you hire has a full-time job outside of photography. This person also might not have as much experience with real estate staging and marketing. 
Ensure you thoroughly vet any photographer, whether they shoot full-time or as a source of extra income. 
What is the standard rate for real estate photography?
The cost to hire a real estate photography expert ranges by state and city. However, most professionals charge between $100 to $300 for a real estate shoot. This is only for still images and does not include video footage. They may charge more if they have more experience or shoot a larger house with more photos to edit.
How many photos will a real estate photographer provide?
The average real estate photography session will generate 25-50 photos. The more photos that need to be edited, the longer the delivery process will take. Some photographers will also charge more to edit more pictures because this is the job's more laborious and technical part. Ask about photo quantity before signing a contract.
What should be included in a real estate photography contract?
A photography contract should cover the price of the shoot, make-up days due to weather, edited photos' delivery date, and both parties expectations. It will also review who owns the pictures and whether the photographer can use them for marketing purposes — like advertising on social media or in their portfolio. 
How do photos help sell my home?
Photos allow buyers to see what your home looks like so they can imagine what their lifestyle would be like if they lived there. The greater the image details, the more buyers can learn if they are interested in the property. This means your showings will be more valuable because buyers will know what they want.
How Well Do They Understand the Business Aspect of Real Estate?
A real estate photography expert needs to understand specific rules of business. For example, the MLS might reject your photos if they include a Realtor sign.
It's also essential that the real estate photographer has at least a baseline understanding of the market, what appeals to buyers and what doesn't, and how to edit the photos after the shoot to appeal to the possible buyers.
Can They Help with Staging?
A real estate photography expert should be able to provide input into staging and work with you on this. They might also help the homeowner with essential tips that can make a big difference in the quality of the photos.
You want a real estate photographer who's comfortable and experienced enough to offer input as it's needed.
Some real estate photographers will even provide homeowners with a pre-photography staging checklist to help them.
A genuinely talented real estate photographer can visually stage, which means they can look at any room in a home and know what they need to do to take a great photo.
Find Someone You Communicate Well With
Communication will be required if you have an ongoing relationship with a real estate photographer, so you want to ensure you both communicate well.
You want your photographer to respond promptly, have input when needed, and be someone you feel comfortable giving your own feedback to, if necessary.
Does the Person Have Specialized Equipment?
Real estate photography often requires specialized equipment. For example, a real estate photographer may have to take pictures in a dark basement, so they'll need to ensure they have the proper lighting. In addition, a drone will be required for aerial photography.
Questions to Ask Initially
Once you find a real estate photographer that you can work with long-term, you'll know all of these things, but in the beginning, some questions to ask include:
• Do you specialize in real estate photography?
• How booked up are you usually, and do you have time to take on consistent work from a new client?
• How long will it take to receive images?
• Do you do virtual tours, drone, and video work?
• How do you get paid?
• Do you have liability insurance?
Remember, a great real estate photography session can more than pay for itself. It's an expense you shouldn't try to avoid as a real estate professional, particularly in today's digitally driven world.
Tell your real estate photographer precisely what you want for your photos.
‍
When you finally hire a real estate photographer, make a comprehensive list of everything you want them to shoot at your listings. For example, if there are specific interior and exterior areas or amenities in and around the property you wish to highlight, provide those details to your photographer. This will prevent you from getting a final product you're unhappy with and give your photographer a clear notion of what you want for your photos' style.
A great way to determine what you want to achieve with your listing photos is to walk through each room to see what's worthy of spotlighting on your real estate website. Here are the primary areas to check out in each home:
The kitchen: Things like a standalone island, modern range, and spacious counter area are worthy features to be highlighted in your real estate photos.
The bedrooms: From the master bedroom to the smaller bedrooms, look for any attributes that stand out, like floor-to-ceiling windows or lots of closet space.
The living room: Homeowners spend a great deal of time in their living rooms, so the more comfortable you can make these appear in photos, the better.
The basement: For listings with finished basements, make them appealing to both kids, who could use them as playrooms, and adults, who could use them for entertainment.
The backyard: Size plays a significant role in how you can showcase your listings' backyards. Find out what makes each unique (e.g., in-ground pool, lots of space) and accentuate those features.
The front yard: Similar to the backyard, play up any positive aesthetic characteristics in the front of the house, like a newly paved driveway or beautiful flower bed.
The garage: Home buyers typically want one area of their home for storage, so make garages look as spacious and organized as possible.
Search online for suitable real estate photographer candidates.
‍You can certainly take your own real estate headshot and find countless great photos for your real estate website online, but when it comes to getting shots of your listings, hiring a veteran architectural photographer is the way to go.
Look at other agents' sites to see which (if any) have great real estate photography that makes their listings look attractive. Next, look for photo credit on their websites if you find one or two with great listing shots. Then, reach out to the photographer(s) credited to see if they can take photos for your real estate listings as well.
Another option — and arguably a more viable solution — is to research real estate photography companies and networks with which top photographers are involved. Numerous online communities interact with the best of the best in all facets of professional photography, including Dribbble, Obeo, CirclePix, and Real Estate Photographers of America & International. Identify candidates and services that fit your budget and needs.
"The camera sees more than the eye, so why not make use of it?"
— EDWARD WESTON
Regarding price, professional photographers (real estate and others) have various expenses associated with their work. Licensing fees, for instance, are implemented by just about every pro photographer. Although your photographer may give you digital files and print versions of your listings, they typically still own the work's copyright. Speak with anyone interested in hiring about their licensing agreement and what you are permitted to do with the photos they take.
Similarly, make sure you're crystal clear on the final price of a photo shoot and the post-production process. Photographers may charge for travel or extra time spent on shoots, so get all the pricing details out before signing them on to take your real estate photos. Additionally, ensure that any photographer you work with takes care of the photo editing after the fact. You're paying them for more than just snapping pictures: They need to take care of adjusting and cleaning up your listing photos to make them look perfect.
Make sure you're happy with their real estate photo edits.
‍
After providing in-depth guidance to the real estate photographer you hired, you have two choices: Join them on the shoot at one or more of your listings, or trust them to get the job done independently. There is no wrong choice here. Attend the shoot, and you can add more insights into your real estate photo preferences along the way. But on the other hand, allow them to complete the task alone, and you can save time and attend to other real estate marketing tasks (perhaps write copy for the listings your photographer is shooting).
Once the assignment is complete, ensure your photographer knows which shots you're a fan of and which to ditch. Then, they can meticulously edit each one. Make sure they know the timeline needed for getting these edits back. You don't want to wait for weeks to get the final pictures, so set a specific deadline for them. Finally, closely analyze each picture they send to you once they've completed edits for two things:
1)

 If they highlighted the areas of each home and surrounding property that you initially requested

2)

 If they overdid it, so to speak, with edits, like Photoshopping pictures too much (which can get you in deep water with your MLS)
Don't hold back if you notice an egregious editing mistake or aren't 100% happy with the final product. Architectural photographers get paid handsomely to take these shots and provide everything real estate agents need to market their listings as best they can.
Evaluate whether it's worth hiring the photographer again.
‍As you'll learn over the years working as a real estate agent, not every business relationship will work out. So ask yourself these questions to gauge if you should hire your photographer again:
Were the photos they took appealing to your core audience?

Did they abide by your photography preferences?

Did they complete their assignment in a timely fashion?

Were they easy to work with?

Did they edit the photos to your satisfaction?

Was their pricing model everything you expected?
Examine every aspect of your relationship with the real estate photography professional you hired and weigh the pros and cons. The good news is, if you weren't sold on their performance, you can return to the well and bring in other candidates from the resources mentioned above until you find the right one.
Real estate photography has become a necessity for marketing a home. Today's homebuyers spend 60% of their online house searching time looking at photos, and most studies show that homes with high-quality images sell faster and for more money.
You can't afford not to hire a pro!
Ask Your Allies
The real estate community, even in a city the size of Charlotte, is tight-knit. Realtors know each other, and professionals earn reputations for quality work over time. The easiest and best way to find a great home photographer is to ask other professionals! Talk to your stager about whom they use to photograph their work, and ask your Realtor if they have any recommendations for reliable photographers. The best resource is right under your nose.
Check the MLS
A covert way to find a great photographer is to look at other home listings on the MLS; when you see pictures you like, dig in. Sometimes photographers will watermark photos with their logo, but it might not be a terrible idea to reach out to other sellers to ask whom they used for pics! Be sure to look at listings that don't compete directly with yours – lower price range, different neighborhood, Etc. – so your contact won't put them on guard.
Look at Websites
Real Estate Photography is, thankfully, a visual industry. The best way to tell whether you'll like a real estate photographer's work is to look at their previous work! Check out each photographer's website individually and spend time on their galleries to see how they use lighting, angles, and detail shots to frame homes. Their best photos will be the ones they choose to show off on their site.
Trust Your Gut
Like any professional, photographers should be friendly and available. When you reach out to a real estate photography expert, do they get back to you quickly? Do they take time to answer your questions? Do they offer professional guidance you can use regarding what time to take the photos, where the best light will come from, and what you should do before they arrive? Start your search for a photographer early in case you have to "interview" a couple before finding the right fit.
There are plenty of reasons to hire a professional photographer in your personal life.
Your wedding day. Your kids' graduations. Family reunions. But there are also many reasons to hire a seasoned, reputable photographer to take shots of your listings for your real estate website.
A real estate photography expert can make the homes you represent look as appealing as possible to buyers and improve your real estate lead generation efforts. But the process of finding and eventually hiring the right real estate photographer means considering several factors, and price, experience, reviews, and licensing are chief among them.
Make sure to apply some of the things you learned from this article: how to hire a photographer, get the best results from their shoots, and build a long-lasting, mutually beneficial relationship with them.